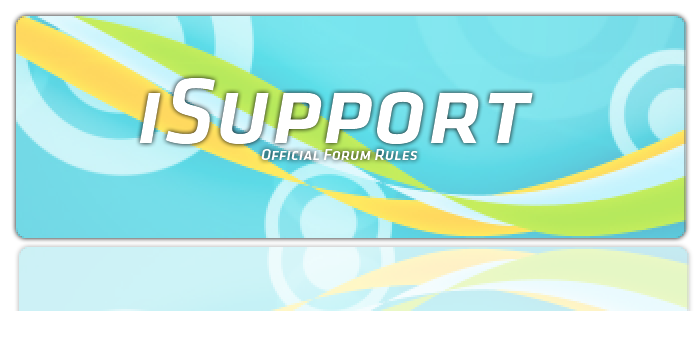 iSupport forum rules
"Follow the law; or suffer the consequences"
First of all, we would love to welcome you to iSupport, the unofficial Forumotion Help Forum which will help you with any issues of your ForuMotion board. We are glad to have you as part of our community and the fact that, at the moment, you are currently reading the rules, makes us even more delighted. We encourage users to follow the rules with respect and cautiousness, and the fact you are reading without the encouragement of staff members, we do not require to bug you.
Our rules are quite simple to abide by, and following them is a great way to be a member here at iSupport. We, working together with every user, help to make the most out of your Forumotion forum(s). We offer premium services to people who abide by our rules and our restrictions because they understand.
Table Of Contents
[1.1]
Innapropriate discussions and(or) conversations
[1.2]
Moderation colors and their info
[1.3]
General forum rules
[1.4]
Following preset category rules
[2.1]
How to become a moderator or part of staff
[2.1.2]
What we, the staff, undergo as staff here at iSupport
[2.2]
Our goal
[3.1]
Copyright reserves - Our property, not yours
[1.1]
Innapropriate discussions and(or) conversations
Understand that we are a calm community who respect the official ForuMotion TOS, and hereby enforce its properties respectively. Having created a forum, you will have been provided a TOS that says Your account will be suspended without notice if it contains any of the following
.
We will try our best to enforce this rule and any one person and/or gang who wish to attack the forum in an uncivilised manner will be banned and possibly deleted and IP blocked to further the ban.
[1.2]
Moderation colors and their info
Moderation colors are assigned to every staff on our team, meaning they have a specific color along with the bold feature on their moderation posts. Under no circumstances are you to use colors, doing so may earn you an infraction and the removal of the color. Bold is also prohibited unless permission is given to use it in a
post.
[1.3]
General Forum Rules
iSupport has its own attributes and requests that you abide them with full certainty and respect to ensure you from receiving infraction(s) and/or bans. Provided is our general forum rules which apply in every section of the forum.
No bumping within 24 hours
Bumping is strictly prohibited unless separated by a 24 hour (one day) span. Bumping applies on topics such as graphic requests, packages and reviews where you can bump the topic, thus levering it to the top where it can gain utmost attention and be given attention by users or staff of the community.Warning will be issued [1 infraction if offense is repeated]
No grave digging
Grave digging is also strictly prohibited. Grave digging is bringing back topics which are abandoned. Under no circumstances are you to Grave dig topics unless authorized by an administrator or Universal Moderator. If any other staff permit this, please bring it up with an administrator (Please do not send PMs to Admin) and they will most likely decline or approve the situation.Infraction will be issued
Colored Posts
Color text is not permitted for users of iSupport, staff members are assigned each a color of their choice in which they use to make moderation choices. Users are therefore not permitted to use either the color or bold text.Warning will be issued [1 infraction if offense is repeated]
Staff impersonation
Staff impersonation (or commonly known as Backseat Moderation) is when a staff member is basically mimed by a user in which he/she attempts to moderate a thread. Staff are known by their distinctive colored name, rank and also an icon beside their name.Warning will be issued [1 infraction if offense is repeated]
[1.4]
Following preset Category rules
It is necessary that you follow the rules set in separate categories as they sometimes vary from the official forum rules. These rules are found on announcements in some sections. If you are unsure whether or not the category has any preset rules be sure to ask in the Forum Technicalities category located under the Forum Announcements & News Blog and above Initiation (Introductions).[2.1]
How to become moderator or part of staff
Requesting to become staff is not valid here at iSupport. Normally, we hold applications in which we pick out the user we find to be most worthy to uphold the position being applied for. We also may sometimes pick staff out individually without notice, a hand-picked staff member if you will. Asking can result in a permanent record marking which will say that the user has attempted to ask for moderator. Following the rules helps with our decisions.[2.1.2]
What we, the staff, undergo as staff of iSupport
Being staff here can be a tough job which requires much experience from administrating/owning a forum. Having to straighten users out by enforcing rules upon them is also a necessary factor. Being staff does have its benefits though, for example you receive a colored name, the rank, the ability to use moderation colors and also have a little distinctive icon next to your username.[3.1]
Copyright reserves - our property, not yours
(C) iSupport - all respective rights belong to iSupport, we ("iSupport" "us") are in no way affiliated with ForuMotion.com, content from ForuMotion was taken with permission of the administrators. Being caught with our images will result in a penalty and request to delete your forum or at least suspend it.
<P>Hi.</P>
---
Permissions in this forum:
You
cannot
reply to topics in this forum